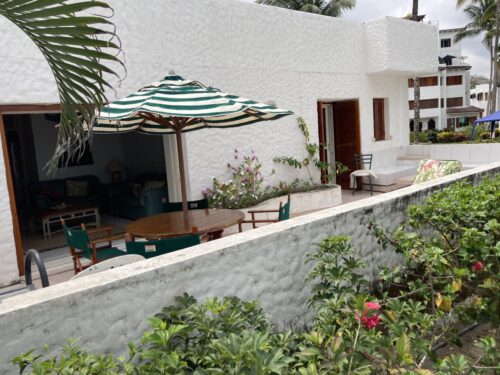 This beautiful Beachfront Condo, has 3 bedrooms, 4 baths, 150m2 construction, (not including the m2 of the patios not including parking spaces or bodega) 2 patios in the front and back, master bedroom and living room has sliding glass doors that open to the beach, guest bedrooms open up to the pools side, 2 pools, 1 childs pool, 2 parking spaces, 1 Bodega, asking $174,900.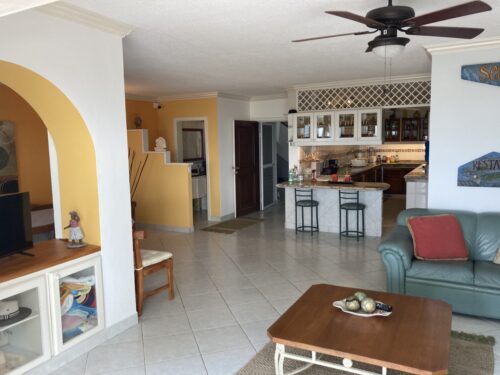 All rooms are fully furnished, with Huge kitchen with all appliances, it is turn key ready for living or as a holiday vacation get away and or investment rental. All on 1 level, on the ground floor for easy access in and out to the beach or poolside.
Este hermoso condominio frente al mar, tiene 3 recámaras, 4 baños, 150 m2 de construcción, (sin incluir los m2 de los patios, no incluye espacios de estacionamiento ni bodega) 2 patios al frente y atrás, la recámara principal y la sala tienen puertas corredizas de vidrio que se abren a la playa, las recámaras de huéspedes se abren al lado de las piscinas, 2 piscinas, 1 piscina para niños, 2 estacionamientos, 1 Bodega,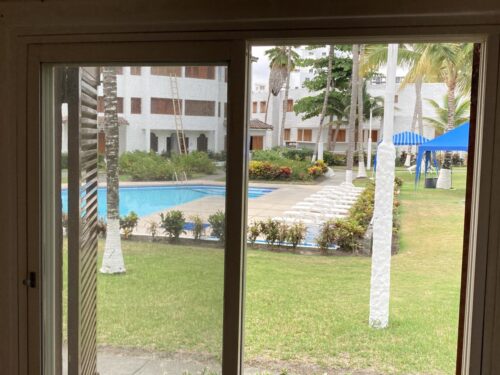 Todas las habitaciones están completamente amuebladas, con una cocina enorme con todos los electrodomésticos, está lista para vivir o como escapada de vacaciones o alquiler de inversión. Todo en 1 nivel, en la planta baja para fácil acceso de entrada y salida a la playa o la piscina.
HOA Fees Alicuota $340 p/m. This includes 24/7 security & concierge services, gardens grounds keepers, common areas lighting and water, pools maintenance, and annual exterior painting and up keep. Asking asking $174,900.
02NOV23 Dia de los Muertos y de la Vida Tortugas hatchling sea turtles Same Coast Condo 4 Sale $175k- https://youtu.be/HsxB669MKpk?si=s5M7zuQBvgnjZJVa
To see this Condo or to See more properties here in Ecuador Real Estate: http://ecuadorrealestate.org – contact us for more photos & details: [email protected] or [email protected]
Call Toll free from U.S. & Canada:
Mnts: 770-828-7913, & Coast: 770-988-4492, ECU. Off: 02-380-4088,
Ecu. Cel Claro: 098-828-8953, WhatsApp, Telegram, +593-98-828-8953,
For Virtual Real Estate Tours, PreTrip Planning
Video Conference via Zoom, jitsi, "skype" user name:
"Jack.Abercrombie" –
#StrategicRelocationEcuador – #JourneymanJackinEcuador –
http://JourneymanJack.com/ – [email protected] –
https://www.facebook.com/StrategicRelocationEcuadorExpatsSurvivalSchool/
Celebrating 15 years of Service to the incoming and outgoing Ecuador Expats Community N. Sierra – E. Jungles – S. Sierras and the Entire W. Coast.
~ 'One Call does it All!' – Call Toll free from U.S. & Canada:
Mnts: 770-828-7913, & Coast: 770-988-4492,
www.Ecuador Real Estate.org | Quito | Facebook–
https://www.facebook.com/EcuadorRealEstate.org
(Last updated NOV 2023)