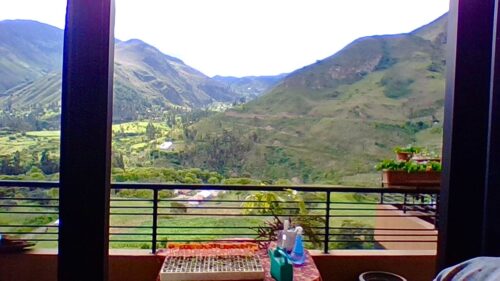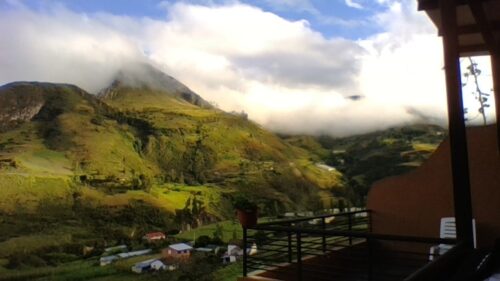 All on 1 level, 2br 2.5bath House 1400sq ft / 135m2, on Lot: .64acre / 2598m2, fully furnished located in the small village of Guachapala, on the Eastern edge of Paute just 45 mins East of Cuenca, with Absolutely Stunning Views overlooking the Paute River. NA Construction standards were used throughout the home, was finished in 2018.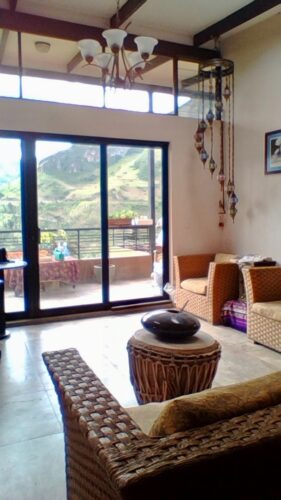 Huge spacious open living room, big balcony terrace, a large full open Kitchen, Laundry room, big pantry, 2 car covered carport. Big master & guest bedrooms, 2 large spacious NA bathrooms, and a half bath social bathroom.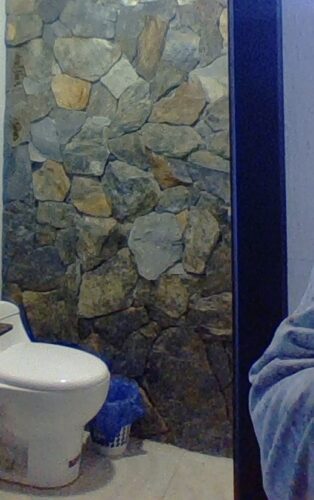 Owner may be willing to finance half of the sale with 50% up front non-refundable down payment of ($85,000), with 10% per year for four years with a balloon at the end of the term ($85,000). A Contract can be drawn up for this 'promise to buy pay agreement', with stipulations of no leasing, no sale of the property, and no transfer of deed without full payment. Our attorney Andrea in Cuenca can draw up this agreement and or an attorney of your choosing for the 'promise to buy pay agreement' / 'Contrato de promesa de compraventa' terms for owner financing the house purchase.
Note: This house is built on Lote #10 of 2598m2, = .64acres, the adjoining lot #9 measures 5473.4m2 = 1.35acres is also available for purchase for $62,000. click here to see more photos and details- https://ecuadorrealestate.org/cuenca-huge-building-lots-for-sale-starting-at-89000-guachapala-paute-45-mins-e-of-cuenca-guachapala-azuay-an-excellent-custom-home-builder-available/
Cuenca, Rio Paute 2habitaciones 2.5baños, Casa es 135m3 en Lot: 2598m2, en Guachapala / Paute / 45 minutos Oeste de Cuenca, Impresionantes vistas, construido en 2018, pidiendo $169.000 – Ver mas lotes y propiadades aqui Ecuador Real Estate: http://ecuadorrealestate.org – contacto mi por more fotos & detalles: j[email protected] or [email protected]
Call Toll free from U.S. & Canada:
Mnts: 770-828-7913, & Coast: 770-988-4492, EC. Off: 02-380-4088,
Ec. Cel Claro: 098-828-8953,
WhatsApp, Zello, Telegram, Wickr, Viber,
Signal, WIRE, Element, Sessions:
+593-98-828-8953,
For Virtual Real Estate Tours, PreTrip Planning
Video Conference via Zoom, jitsi, "skype" user name:
"Jack.Abercrombie" – (Updated JUNE 2023)