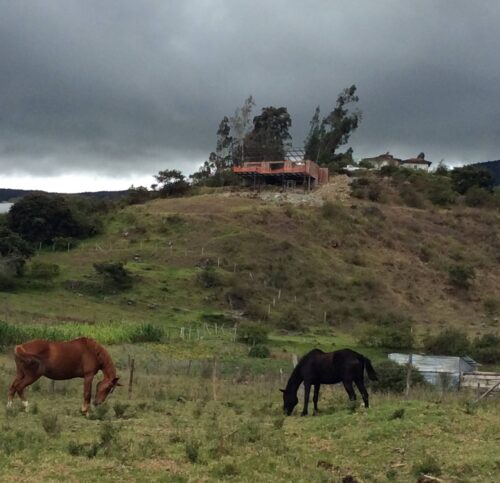 Land On the Paute River ~ AVAILABLE FEB 2023 – Here we have 5) One acres Lots 45 minutes east of Cuenca near Paute on the Paute River, ~
This rich, fertile land could easily accommodate walnut, apple, peach, plum, pear, lemon, orange, and other fruit tree plantings as well as an array of fresh vegetables.
There is underground municipal water and electricity that services all of the lots. And, there is also clear mountain ancient Inca canal irrigation water available for gardening, irrigation, and livestock. Rio Vista Linda is a quaint farming community with friendliness and charm.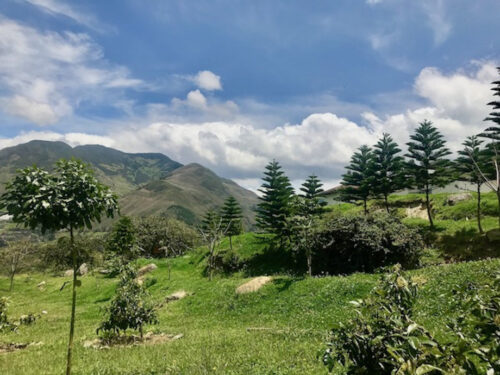 If you need something quickly, there are small convenience stores located here. You will also find a car wash, small restaurants, a taxicab service, a police station, a new sports arena and soccer field, and even a children's water park with a refreshment area.
A ten-minute drive takes you to the bustling town of Paute, where you'll find shops, restaurants, banks, hardware stores, building supplies, a medical clinic, and a full hospital. There is also a year-round farmers market with every kind of fresh fruit and vegetables imaginable.
Cuenca, Ecuador's UNESCO protected city and its cultural capital is approximately 45 minutes away. The University of Cuenca's "Agricultural Education" land is situated next to the property. This pristine land will always remain, as it is, which means that the natural environment of the area will be kept intact. These five lots in the upper portion of Rio Vista Linda won't last long. The natural beauty, fresh air, incredible land for growing food year-round, and the temperate climate make this an exceptional place to live and play,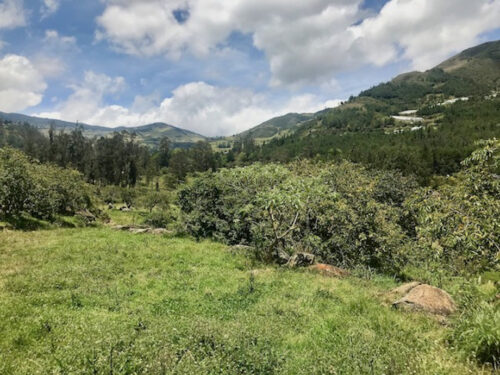 The lots have municipal water and electricity, ALL UNDERGROUND. The listing price for to buy individual upper lots, prices and information is listed below.
Lot #1 – $65,000 – 3267m2 / 0.807 acres – Includes the old homestead Casa, with the best view overlooking the valley!
Lot #2 – $55,000 – 3782m2 / 0.934 acres – amazing view, entry drive, and homesite work done. Has a waterfall on the land
Lot #3 – $55,000 – 4550m2 / 1.124 acres – largest upper lot with avocado orchard trees.
Lot #4 – $55,000 – 4142m2 / 1.023 acres – avocado orchard trees.
Lot #5 – $55,000 – 2955m2 / 0.730 acres – wonderful view of the valley, with avocado orchard trees.
There are 2 small workers houses on the upper site, one older and one newer. Selling all all five lots of property in a package deal is certainly negotiable and possible Should you want to? All of 1 – 5 individual upper portion lots totals up to = $285,000 (WILL NEGO better price for all 5, and for USD payment in the USA, and for Metals in USA)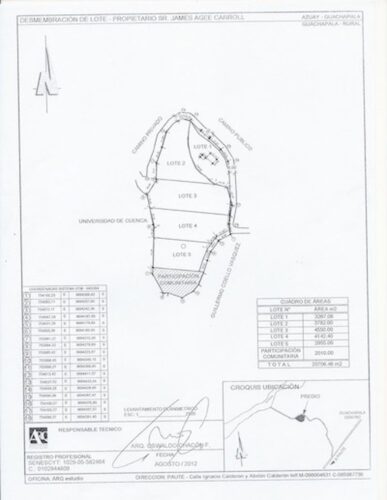 The first plot map attached of this upper tract of land is oval shaped as an egg running north to south denotes the single five-lot property, also showing the individual lots for sale.
We also have 2 more lots, on the lower portion of the land nearer to the river if you like. Individual lots in the lower area of Rio Vista Linda are also available for purchase for building your own country dream home. They are:
Lot 1 – $40,000. – 1857m2 / 0.458 acres (available)
Lot 3 – 75,000 – (SOLD) 4118m2 / 1.02 acre,
Lot 6 – $58,000 – (SOLD) accepted $54k, 4540m2 / 1.121 acres (JUNE 2022)
Lot 9 – $62,000 – 5473m2 / 1.352 acres (available) can combine w, #10 + house,
Lot10 2598m2 / 0.64 acres, w, House $169,000 – (built in 2018) 135m2 / 1450sg ft house, click for more info and photos- https://ecuadorrealestate.org/cuenca-paute-river-2br-2-5bath-house-1450sq-ft-on-lot-64acre-guachapala-paute-45-mins-e-of-cuenca-stunning-views-built-2018-asking-169k/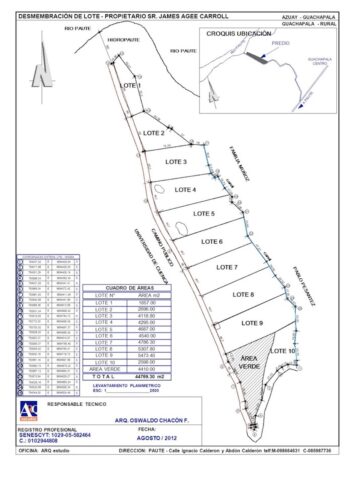 The second plot map is long and narrow from north to south indicates the location of the individual lots for sale, Selling both remaining lots of property in a package deal with the upper 5 lots is certainly negotiable and possible Should you want to? The 2 remaining lower portion lots of #1 – #9 individual lots added together cost totals up to = $102,000 (WILL NEGO)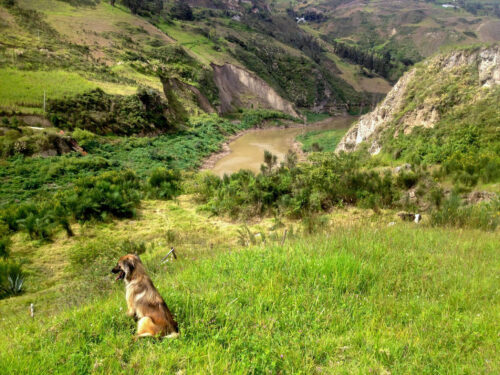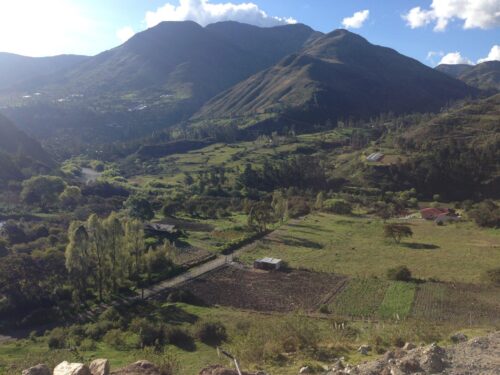 See more properties here Ecuador Real Estate: http://ecuadorrealestate.org – contact us for more photos & details: [email protected] or [email protected]
Call Toll free from U.S. & Canada:
Mnts: 770-828-7913, & Coast: 770-988-4492, EC. Off: 02-380-4088,
Ec. Cel Claro: 098-828-8953,
WhatsApp, Zello, Telegram, Wickr, Viber,
Signal, WIRE, Element, Sessions:
+593-98-828-8953,
For Virtual Real Estate Tours, PreTrip Planning
Video Conference via Zoom, jitsi, "skype" user name:
"Jack.Abercrombie" – (Updated JUNE 2023)