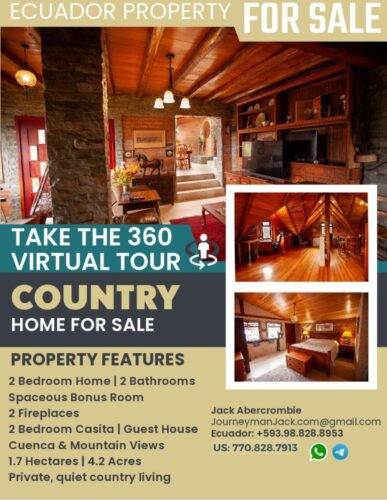 Upon request to [email protected] you can See our 360 foto album tour of the Main House, Guest House, out buildings and Land. and 25+ more HD fotos.
Property details: The house and the casita come unfurnished, but the appliances can stay. The appliances in the house were all bought and brought from the US and all in good work condition.
-The casita Guest House rents monthly for $400. -There is a flat area where another house or casita could be easily built.
-Currently water comes from a spring on the next mountain. There is a Community Water Board that is working towards enclosing the water delivery system, and the owners are members of that board.
-The land is 1.7 hectares, which is 3.74 acres. Aprox 1/2 of that is open grass land and the other half is virgin cloud forest. -Both the house and casita have astonishing views of Cuenca and surrounding mountain range. -The house is very private and quiet.
-There is an additional building which is used as a laundry room and shop for the current owners. They built that building with the idea that if they ever needed live-in help, we could finish that as a home for the helper.
-The main floor of the main house has all of the essential rooms: living room, dining room, social bath, kitchen, bathroom and two bedrooms. The upstairs is currently an office / library, but could be used as a guest room or for storage if someone doesn't want to use stairs.
-The main bedroom is American styled: large and with a large walk-in closet. There's a door directly to the outside for earthquake safety. -If someone wants to build on, there is plenty of room to expand the house. -The house has two fireplaces which keep the home toasty warm, no matter the weather.
-Cable internet is available. The road access is excellent. -The mountain is very safe. most of the neighbors speak English and there are numerous expats who live on this mountain. -There are lots of areas for walking and hiking without having to worry about aggressive dogs or other safety issues.
-The casita guest house has a living room, dining room, kitchen, two bedrooms, and a bathroom. For outdoor living space, there's also a large patio. The casita isn't visible from the house, so it allows privacy for both.
-The total of construcion is 302.13m2 = 3252sq ft, this is divided into the Main House: 191.57m2 = 2062sq ft
the Storage house: 30.56m2 = 329sq ft
the Guest house: 80m2 = 861sq ft
Asking $425,000
#EcuadorRealEstate – www.EcuadorRealEstate.org
fb pg.: www.facebook.com/EcuadorRealEstate.org
Call Toll free from U.S. & Canada: Mnts: 770-828-7913, & Coast: 770-988-4492,
ECU. Off: 02-380-4088, ECU. Cel Claro: 098-828-8953,
WhatsApp, Telegram, Signal, +593-98-828-8953,