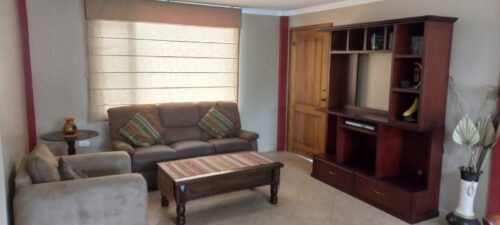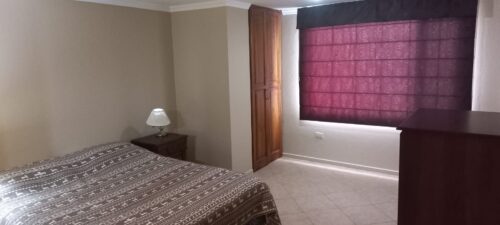 Fully furnished w, all linens bedding, appliances 2br 2bath Condo Apt. 1270sq.ft / 118m2 in town near San Francisco Church Square. On a peaceful and quiet 3rd floor, with wonderful views of Popa Imbabura and partial views of Moma Cotacachi and next door to World Famous Eddys Rio Intag Cafe. (PV2) in The Primavera2 Condos Complex.
This above YT video is to give you an idea of the beautiful immaculate grounds of the 4) Four Storey Apt Buildings. The property is Covered in mature avocado, lemon, peach trees and a community garden that is shared among all of the residents, and taken care of by the grounds keepers. HOA Fees are $100 p/m.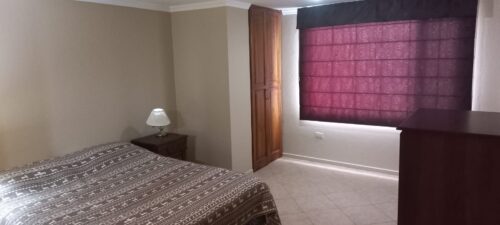 Huge and roomy kitchen with all the basic appliances and extras, 2 very large and spacious bedrooms both w, full private baths,
To see this Condo or to See more properties here in Ecuador Real Estate: http://ecuadorrealestate.org – contact us for more photos & details: [email protected] or [email protected]
Call Toll free from U.S. & Canada:
Mnts: 770-828-7913, & Coast: 770-988-4492, ECU. Off: 02-380-4088,
Ecu. Cel Claro: 098-828-8953, WhatsApp, Telegram, +593-98-828-8953,
For Virtual Real Estate Tours, PreTrip Planning
Video Conference via Zoom, jitsi, "skype" user name:
"Jack.Abercrombie" –
#StrategicRelocationEcuador – #JourneymanJackinEcuador –
http://JourneymanJack.com/ – [email protected] –
https://www.facebook.com/StrategicRelocationEcuadorExpatsSurvivalSchool/
Celebrating 15 years of Service to the incoming and outgoing Ecuador Expats Community N. Sierra – E. Jungles – S. Sierras and the Entire W. Coast. ~ 'One Call does it All!' +1-770-828-7913, Ecuador Real Estate .org | Quito | Facebook– https://www.facebook.com/EcuadorRealEstate.org (Last updated APRIL 2023)
En Venta Cotacachi, 2br 2bath Condo Apt. 1270sq.ft en la ciudad cerca de San Fran Sq. Hermoso edificio en el tercer piso frente al monte Imbabura con excelente vista ~ pidiendo $ 76.000 USD, Completamente amueblado con toda la ropa de cama,
electrodomésticos 2hab 2bath Condo Apt. 1270sq.ft / 118m2 en la ciudad cerca de la Plaza de la Iglesia de San Francisco. En un tercer piso tranquilo y silencioso, con maravillosas vistas de Popa Imbabura y vistas parciales de Moma Cotacachi y al lado del mundialmente famoso Eddys Rio Intag Cafe. (PV2) en el Complejo de Condominios Primavera2.
Este videos de YT anterior es para darle una idea de los hermosos terrenos inmaculados de los 4 edificios aptos. Cubierto de aguacates maduros, limoneros, melocotoneros y un jardín comunitario que es atendido por los encargados del terreno. Las tarifas de Alicuota son de $ 100 p / m.
Cocina enorme y espaciosa con todos los electrodomésticos básicos y extras, 2 habitaciones muy grandes y espaciosas, ambas con baños privados completos. Llame para una cita ECU. Apagado: 02-380-4088, ECU Cel Claro: 098-828-8953, WasApp, +593-98-828-8953,