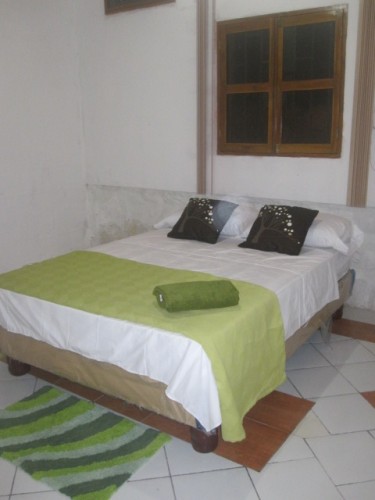 The house I just furnished on the coast of Ecuador.
"Hey Dom, do I need to bring sheets and towels to Ecuador?" My friend emailed.
"Child please, are you kidding me?" Was my answer.
Ecuador is undeveloped but it's not that ghetto. You can find everything you'll need to comfortably furnish your house.
To save money I recommend shopping for your household goods in the big cities of Ecuador like Quito or Guayaquil, prices tend to be cheaper and products easier to find compared to the smaller towns of Ecuador.
In fact, this week I was furnishing my place on the coast, shopping almost exclusively at the big-box stores of "Mi Comisariato" and "Supermaxi" here in Guayaquil.
This is what I paid this week so you can compare prices to your home country:
Pillows: $4.68
Small trash bin for bathroom: $8.33
Bed sheet set: $20
Bathroom rug: $8.05
Acrillic plates: $1.37 each
Full sized towel for bathroom: $11.16
Hand towel for bathroom: $3.39
Manual style juicer: $1.42
Family sized plastic pitcher: $3.03
Dish soap: $.80
Hangers: $.75 each
Toilet brush cleaner: $2.13
Glass cups: $.38 each
Sponge to clean bathrrom: $.34
5 person kitchen utensil set: $10.70
Kitchen knife: $2.40
Wooden Soup spoon: $1.78
Bathroom shower curtains: $8.03 each
Hand held mini umbrella: $3.56
Fan: $19.63
Gas Stove (with no gas cylinder): $33.92
Plastic dinner table for 4: $44.63
Plastic chairs for dinner table: $9.80 each
Gas cylinder: $50 (refills $2.50)
Queen size wood bed base: $40
New brand name Chaide y Chaide queen size bed cushion: $80
If you liked this, you'd absolutely love my Weekly Ecuador Insider´s Newsletter, where you'll learn everything YOU NEED TO KNOW before you invest in Ecuador, you can unsubscribe at any time:
var icpForm417 = document.getElementById('icpsignup417');
if (document.location.protocol === "https:")
icpForm417.action = "https://app.icontact.com/icp/signup.php"; function verifyRequired417() { if (icpForm417["fields_email"].value == "") { icpForm417["fields_email"].focus(); alert("The Email field is required."); return false; }
return true; }