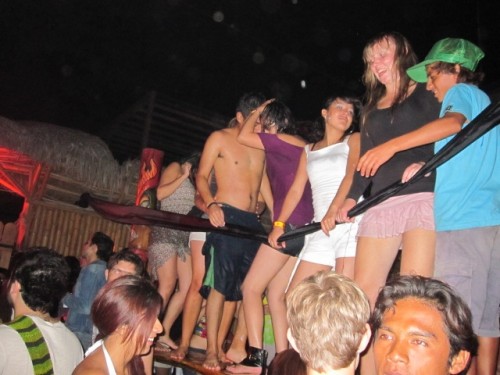 Done deal.
This week I agreed to rent a restaurant on the Ecuador coast… why?
Ecuadorians love to eat, and they love to spend.
They also like to try new things, and Ecuador lacks a lot.
For instance, I'm still waiting for someone to put an authentic Vietnamese restaurant in Ecuador. Anyone who's been to Vietnam knows they have some of the best food in Asia. Or how about Hawaiian? Man I'd kill for some Kalua Pork down here.
Successful examples of entrepreneurs who are making bank in Ecuador in the restaurant/bar business are all over the place.
There's "Crepes and Waffles", a Colombian restaurant chain, that is always packed in Quito. "The Magic Bean" in Quito that specializes in American/style pancakes as well.
There's the Gelato ice cream store in the center of the old town in Cuenca, that was highlighted recently in a local paper reported as having sales of over $1000 a day.
Or the fast-food-Sushi chain in Guayaquil that was reported as selling over $1500 a day.
And the list goes on.
Not to mention, you can "legally" pay your employees $300 a month, and the licenses needed are far more lax than in the States.
Liquor license? Hah. You can buy beer here on every street corner from the mom and pops.
Some of what you do need is to be registered with the SRI, the IRS of Ecuador, and a "permiso sanitario" which is given by the "Direccion de Salud" in the city where you will open the restaurant which certifies you are preparing food in the mandated way.
You'll also need a quick "permiso" from the local Fire Department.
One interesting thing I've noted here in Ecuador is that Ecuadorians don't like Pizza very much. Most eat it maybe once a year, if not less, proving that you still should adapt your menu to Ecuadorian tastes, like KFC does.
Bread? Not much. Ecuadorians tend to prefer rice with every meal.
Some of the most successful restaurants in Ecuador mix their menu, blending Ecuadorian dishes with new ones.
Another key ingredient for any restaurant to succeed is "foot traffic" or to be somewhere with a constant flow of people walking right outside.
By far, the two best places on the coast that provide a "constant" flow of year-round foot traffic are Manta and Montanita.
And that's where I rented the bar-restaurant-hostel… right in the center of Montanita a few yards from the beach right on the main walk way.
Can't say I don't practice what I preach.
But actually, the place has three levels, the top two are accommodations, the bottom level has the bar-restaurant, and I'm not interested in ruinning the bar-restaurant part of the business, too hands-on for me… although it could be VERY profitable…
So I'm looking to sub-lease it out.
It'd be great to work with a fellow "insider". And we're right on the verge of entering the high season, in late December through April.
So if this type of business ever interested you, this is a great, cheap way to get your foot in the door.
Its a full sized restaurant with an outer veranda great for also putting more tables, right on the main strip, where EVERYBODY in Montanita who walks to the beach has to pass.
It comes with a fully equipped bar and kitchen. One year contract, $1000 a month. And if an "Insider" subleases from me I won't charge any deposit. The price is reasonable, if you rent a small "locale" shop on the main strip in Montanita you're looking at paying around $800/month rent, but this is a full sized restaurant, with a hostel above you run by me, meaning more potential customers for your restaurant.
Write me here if interested, first come first serve.
Hasta pronto, Domenick…hey, if you liked this, you'll love my weekly Foreign Investor's newsletter for insider tips and opportunities in Ecuador…subscribe below(unsubscribe at any time):
var icpForm417 = document.getElementById('icpsignup417');
if (document.location.protocol === "https:")
icpForm417.action = "https://app.icontact.com/icp/signup.php"; function verifyRequired417() { if (icpForm417["fields_email"].value == "") { icpForm417["fields_email"].focus(); alert("The Email field is required."); return false; }
return true; }