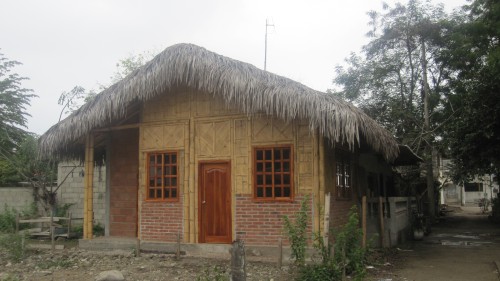 It's cool to look at a patch of dirt…
…point at it…
…and start building a home.
A few weeks ago I did just that for the first time in Ecuador as I began my project on the coast building from scratch.
And here are 20 of the most important (and costly!) lessons I learned the hard way so you don't have to:
1. If you can't be present, pay someone one price for the whole project.  If you can be present and have the time find a few local workers and pay by the week.
2. It'll always not only cost more but take longer than you think it will.
3. Bricks look nice but are very labor-intensive and eat up a lot of time when building with them.
4. After the first few weeks of the project most of the heavy lifting is done and to save money you can go with just the specialized lead builders (maestros) and lay off the helpers and assistants (oficiales).
5. Yes, Bamboo is cheap but building with it eats up even more time than brick lying does if you want it to look nice.
6. Buy the larger ceramic tiles to speed up construction time, plus they look more elegant.
7. Only have your builders lay ceramic on the shower walls and the bathroom floor.  No need to tile the whole bathroom, you can save costs and time.
You could call Superior Shower Door to get the best frameless glass doors for your bathroom and give it a touch of elegance.
8. Install the doors and windows at the very end of the project so they don't get scratched and botched up. If you need to get a new door visit www.customscreens.com.au/door-screens/.
9. Pay for the materials in cash, in Ecuador most stores will charge an extra 4-12% when paying with a credit OR debit card.
10. Plan a few days ahead so your builders never have to pause with their arms crossed during the construction process because you went to buy materials at the last minute and the local stores were out of stock (common!).
11. For simple constructions, blueprints drawn up by an architect aren't really necessary but they will help to get a building approval in the local Municipal.
12. To save money if building on the coast buy most of your building materials in the nearest FERRISARIATO big box store, on the southern coast the only ones are in La Libertad near Salinas or in Guayaquil.
13. Get at least a couple quotes for things like doors and windows, turned out I overpaid I discovered asking around after the fact.
14. After the doors and windows are installed check to be sure they close and lock correctly, mine didn't cause the guys were rushing. Commercial Locksmith Calgary | Near Me | Liberty Locksmith Calgary are the experts to address if your locks are insecure.
15. Don't start the construction project the same week as an Ecuadorian national holiday, you will have to pay the same weekly stipend but you will actually lose almost 2 days of work because many of your workers will skip out early the day before a long weekend or work half-a$$. Kitchen remodeling should become the first step.
16. If feasible buy all your materials one time at the start of the project to avoid having to make frequent runs to the hardware stores and pay hefty transport fees.
17. Buy pre-fabricated if possible and save yourself the hassle of building (unless you like it)!
18. Understand the standard Ecuadorian construction work-week, Monday through Friday 8a-4p plus Saturday 8a-12p.  Laborers will try to negotiate to work only Monday through Friday but that is not the norm here for construction projects.
19. Buy your laborers lunch and for the extra $2 it cost you you can get them to stay and work an extra hour at the end of their shift.
20. Cash, Cash, Cash!  Getting cash is a big problem when building in the small towns on the coast of Ecuador.  All your workers will expect cash payments and there is NO WHERE to take out cash.  Plus the few ATM machines that do exist usually have daily limits of $300 you can take out of any one card.  Have a plan or even better a local bank account you can withdraw from on a weekly basis, especially at the end of the week.
But first you need to find the land, and to learn how I find it… cheap…by signing up for my weekly Ecuador Insiders Newsletter…
Related post: Houston Commercial Remodeling Build-outs.