MONTANITA HOUSE FOR RENT
One price for WHOLE HOUSE, more private than a hotel and fit as many people as you wish!…
3 bedroom with one queen bed each, 2 full bathrooms, fully furnished kitchen with dining table and mini-refrigerator, patio with hammocks overlooking the ocean, dining area…
House has internet and WIFI.
This quiant house has a 180 degree ocean view and has a great location in a quiet area just outside of the hustle of nearby Montanita. It is 25 minutes by walking along the beach to Montanita (shares same beach), or 2 minutes by car (or a $1.50 taxi ride). See map below.
Furnished kitchen with plates, fridge, refrigerator and gas stove.
Pets OK, garden, yard, parking area.
$30 per day, $180 per week, $380 per month (including internet).
$100 security deposit, can rent for days, weeks or months.
After reservation you will be emailed the key pick up instructions and our caretaker will let you in the house the day of your arrival and help you get acquainted.
Click here to check availability and reserve now!
Or call Dom at 0969251257 or write us below:
[contact-form 16 "montanitaVacRen"]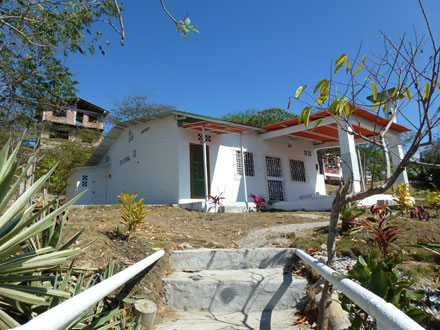 To discover more Montanita properties for rent and sale as soon as they hit the market sign up for my weekly alerts by filling in below, Unsubscribe at any time:

This Montanita Ecuador Real Estate listing is no longer available, to see our current Montanita listings fill in below:
var icpForm3493 = document.getElementById('icpsignup3493');
if (document.location.protocol === "https:")
icpForm3493.action = "https://app.icontact.com/icp/signup.php"; function verifyRequired3493() { if (icpForm3493["fields_email"].value == "") { icpForm3493["fields_email"].focus(); alert("The Email field is required."); return false; }
return true; }