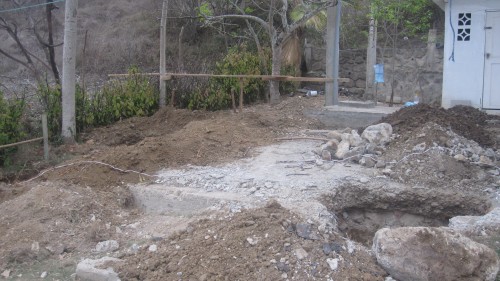 Remember a bit back I wrote you when I was thinking about building fancy Ecuadorian-style beach huts on the coast?
Well, I had just got the quote and boy was I excited about the numbers.
Or being able to build something for $3500 I could rent realistically for $300-500 a month.
That means even if it rents at the low-ball figure within a year I could make my money back…
…that means a 100% ROI, maybe more if I could figure out how to spend less initially or charge more for rent.
Not bad.
This week, I broke ground on a lot of mine near Montanita.
The plan is to build at least 2, maybe 3, we'll see how the budget goes.
One thing I've learned already is that boy is it cheaper to hire the builders based on personal recommendations from friends or acquiantances in the area.
And pay them by the week instead of for the project as a whole.
Also, hire local so you don't have to pay for their accommodations and food and so you can begin making some valuable friends in the area.
Plus, if you need an emergency electrician near you, the locals will know where to find one.
A guy that makes doors.
They'll know him too.
Of course, that is, if you can be present, pay them the going weekly rate in Ecuador which is $140/wk for a head builder (maestro) and $90/wk for a helper (oficial).
Only pay someone for the whole project if you can't be around to oversee.
I've hired 2 maestros and 2 oficials and we've begun by digging the holes for the footers of the 5 main pilars of the "cabaña" or beach hut we're building.
For the first cabaña we've decided to go with a "mixed" cement and bamboo design with a traditional thatch roof.
In order to follow the important updates regarding this project fill in the blanks below, you can unsubscribe from the alerts at any time: