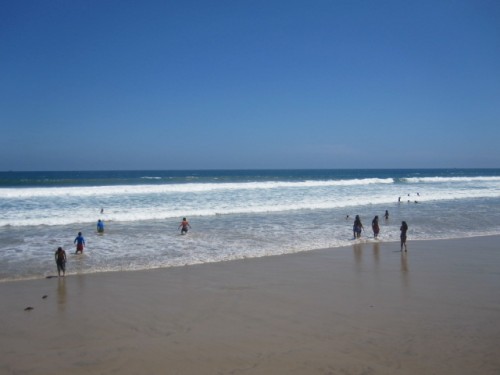 A view from the front of the lot. 
For six weeks I put the sale of a beachfront lot I purchased for resale on hold while I built 3 tiki-style beach huts on the southen coast of Ecuador on a different oceanview lot in time for the upcoming rentals high-season here (late Dec- early Apr).
Now as I mentioned earlier this week, I'm finished building so I'll focus back on selling the beachfront lot I purchased to resell.
It's a good lot.
In an area with great potential for short-term growth, flat, on a small bluff elevated about 15 feet over the ocean, 475 m2 (5112 ft2), right on the beach with no road in front, 25 minutes from Salinas in a small, non-commercialized fishing village right in town near water/electricity and I've decided to ask only $16k with hopes to sell it quick.  That's roughly $33 a square meter which for beachfront is a good deal in this area of the Ecuador coast where I've seen similar beachfront lots sell anywhere from $35-200 per m2 for smaller lots like this one.
My initial marketing strategy will be three-pronged, simple and inexpensive, we'll see if and how fast it works…
1. List with 1-2 local real estate agents in the Salinas area.
– Exclusivity is neither expected nor respected in Ecuador by most property sellers, sellers usually let multiple agents list and promote their property and pay the commission to whoever sells it first.  I'll aim to get the lot listed by a few of the Salinas agents who I know really sell properties.  Not all agents in Ecuador actually can sell!  I'm happy to offer 3-5% if an agent can help find me a buyer and show my lot, well worth it.  I value marketing and sales cause I'm a marketing guy myself!
2. Publish ad in the major local newspaper.
– I plan on taking an ad in the Sunday classifieds of El Comercio, the major local paper in the area, in Spanish targeting the local market.
3. Post on the net (in English) targeting the English-speaking market abroad.
– On my own site EcuadorRealEstate.org where I let anyone selling property in Ecuador under $50k publish for free, or for $20 a month if they are looking to promote a property asking more than $50k.
– Publish ad on Craigslist in English aimed at the foreign market interested in Ecuador property.  It's free and it's popular worldwide and a great way to get the property in front of more eyeballs looking for real estate in Ecuador.
– Post on Viviun.com , Its a high ranking site where I can pay a small fee to get my property for sale in front of even more eyeballs looking for Ecuador land.
Hopefully in one of my next updates you'll learn as I learn through the sale… 😉
To read the next article in this series you need to sign up for my weekly, Ecuador Insider's Newsletter below (You can unsubscribe at ANY time):