"What the f**k is that?" I thought as it rolled up to my B&B in Ecuador.
Baffled, my Ecuadorian friend with me at the time, had never seen one in his entire life.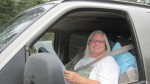 After all, Mobile Homes are a VERY uncommon sight in Ecuador.
But there was one sitting right outside my place.
You see, as I mentioned yesterday, due to the high import tariffs on new vehicles and tight import restrictions on used ones, prices for cars in Ecuador even through the used car dealership Houston service are often double those in the US. You can imagine the cars are really expensive. From my experience,  if you decide to find a used car in Ottawa, you can always get proper funding no matter what credit history you have. So, I didn't think it could be such as issue.
In fact, cars over 4 years old are simply not allowed in nor are cars over a certain engine strength (find details on this page). A definite negative to life in Ecuador. You can learn about how you can donate car junk and get money in return. Check out HospitalCars.ca and make use of your car junk.
Single women got cats, guys got cars we sometimes just can't leave behind… I know, I get that.
So how'd these two young guys from Oregon get their year 2000 (approx) RV into Ecuador?
I mean you can't just drive it down, there's no road that connects Panama to Colombia.
Here's what they did, and what you can do if you got that car you can't leave behind.
They drove it down from the US to Panama. Then they put it on a boat from Panama to Cartagena, Colombia for $1200. Then they drove it down to Ecuador.
When you enter Ecuador with a car, your passport gets stamped saying you came with a car, and when you leave it has to be with that car.
But you can drive it around with US plates and your US license.
But you can't sell it, or register it in Ecuador without passing through all the sticky vehicle import regulations Ecuador imposes.
It'd be for your personal use only during your stay in Ecuador.
You know, just in case you can't leave your "baby" at home.
Ecuador is worth the hassle, believe me! Your new life is waiting!
If you liked this you'd love my weekly newsletter covering all the dirt on Ecuador… sign up below, you can unsubscribe at any time:
var icpForm417 = document.getElementById('icpsignup417');
if (document.location.protocol === "https:")
icpForm417.action = "https://app.icontact.com/icp/signup.php"; function verifyRequired417() { if (icpForm417["fields_email"].value == "") { icpForm417["fields_email"].focus(); alert("The Email field is required."); return false; }
return true; }