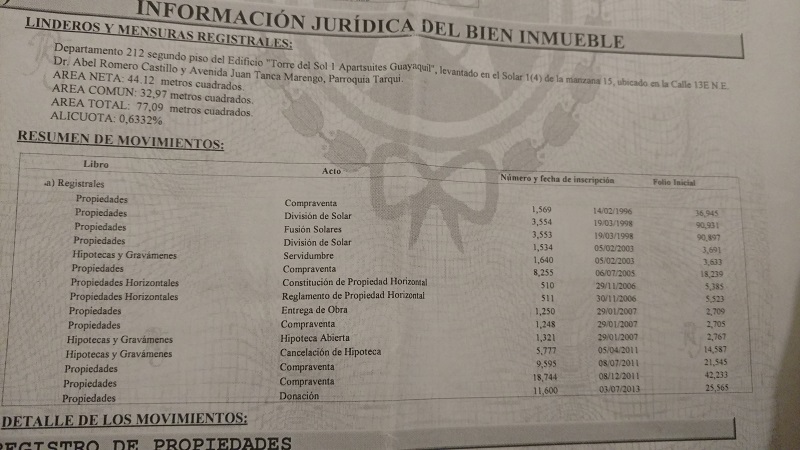 Are lawyers basically worthless in Ecuador?For title checks on property, I´d say yes.
Because they´re gonna do exactly what you yourself could do with a quick trip to the property registrar (registrador de la propriedad) in 20 minutes and $20 later getting the certificate of registry or history of the domain (certificado del registrador).
This certificate is how the common Ecuadorian quickly identifies rightful ownership, it also shows if there are any leins or mortgages out against the property and all the transfers of ownership the property has had in it's history.
You can see an example in the pic below of one property I am considering buying in Guayaquil, where the last transaction was a donation from father to daughter in a divorce settlement.
You could also take your DIY title check a few steps further by taking the following precautions: 
– Only buy property with clearly established boundaries like an old-looking wall or clearly defined land features (like a river) or apartment unit number as defined in the escritura (title).
– Verify neighbors identity as established in the Escritura.  Although this may be out of date some.
– You could also physically measure all boundaries of property as miscalculations of area on deeds are common, but better to know before you buy.
– Research the seller.  Judge the current owner by his cover like Ecuadorians do.  Only buy from people who are easily located, preferably local to where you are buying, everyone knows them, they have stable job, family person, house, you know where they live etc. etc.  These type of people are less likely to play funny games.
I guarantee you a lawyer in Ecuador won't do all these steps in their title check (that they charge you hundreds or thousands for)!
Hasta pronto, if you liked this sign up for my Ecuador Insider's newsletter so you can check out my latest posts(not available online) on living and investing in Ecuador:
Fill in below to sign up now (you can unsubscribe at any time):