Before we could even think about building anything here on the coast just south of Manta, Ecuador, we had to get water to the lot.
Electricity can come later.
Like with most things in Ecuador, its usually either ridiculously easy or excruciatingly difficult.
Thankfully, this time it was easy.
Like usual in Ecuador, we asked our neighbors how they got water and found out there was a newly installed city line right near our property.
The expats near us were Ok with letting us plug in but said they invested to bring the line where it was so they asked us to chip in with a one time "tip" of $180.
We paid it, and with their blessings we plugged right in with our "T" as you can see in the pic.
No meters yet in this area of town but they will soon be installed so I´m told.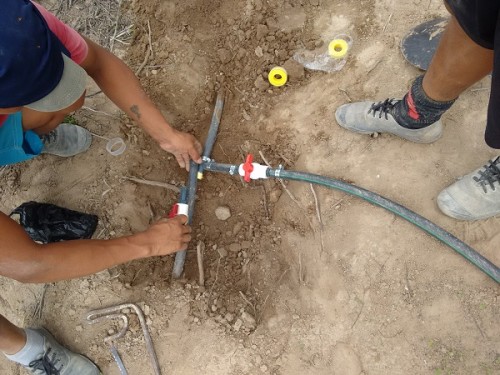 So for now the water is free.
In a previous property I owned south of here on the coast I was plugged into the city line and paid around $4 a month.
Gotta love Ecuador!
And to be the FIRST to find out about more property deals like this one sign up for the property alert by entering the info below: